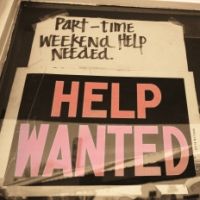 With a title like this there is little room for dilly-dallying along the way to the answer. So without much introduction, here is the tip that could save your marriage: Get a part-time job.
There. That's it. Husbands, if you want to save or strengthen your marriage, get a part-time job.
I should say right off the bat that I am not talking about a literal job that will pull you away from the home for more hours. Instead I'm arguing for the husband to approach his time at home with his family with the same thoughtful intentionality and engagement that he would if he were to go to work.
Far too many marriages are suffering because the husband comes home mentally, physically and emotionally zapped from his work day. He has done well as the provider for the home and now he is going to come home and collapse into a lazy-boy (aptly named) or in front of a computer or some other process of decompression and relaxation from a tough day at work. This type of thing may be ok occasionally but if practiced regularly it will lead to major problems.
Years ago after starting a new job I came home mentally and emotionally drained several days in a row. Laying on the floor "resting" became my default posture. One day my wife walked over and said, "Hey, we don't want your left-overs. Don't give everyone else your best only to serve us left-overs."
This hit me like a ton of bricks. My wife and family were grateful that I was providing, but they were not content with a mere provider. They wanted a dad and a husband. In other words, there is more to the job of being a husband than just making money. He needs to be thoughtfully, intentionally, and continually engaged in the home.
This is why the illustration of having a second job in the evenings works so well. As husbands we must come home with at least, if not more engagement than we would have at work. Husbands come home to lovingly lead their families. They need to be serving their wives by listening, learning, nourishing, and shepherding them. We can't do that when we are "recovering" from work or checking out for some much needed "me" time. The job description for a husband entails thoughtful intentionality. We have got to be in the game and doing our job.
It would not be a stretch to say that over 90% of the marital counseling I have done as a pastor involves the husband sleeping at his post in one way or another. He hangs his hat on being the provider while neglecting his role as shepherd-leader of the home. Fixing this will not solve everything but it will drastically improve a lot of things.
So husbands, let me challenge you to come home from work like you are going to work at a job you love in a place you love. Come alongside your wife to talk, listen, and learn her. Play with the kids. Do some chores. Make some jokes. Read the Bible. Pray together. Play a game. Make some dessert. Fix something that broke. Flirt with your wife. Sit and talk. Whatever you do, do it heartily and intentionally like a guy who is there, engaged with his family not escaping from his family.